Sugar is Hidden in Everything!
Americans have no idea the amount of sugar that is hidden in their food.
In fact, the average American consumes 57 pounds of sugar per year; that's 8,000 teaspoons of sugar!
It's no wonder that diabetes (37.3 million diagnosed), prediabetes (96 million diagnosed), metabolic syndrome (50 million diagnosed) and atherosclerosis (14 million diagnosed) have reached epidemic proportions.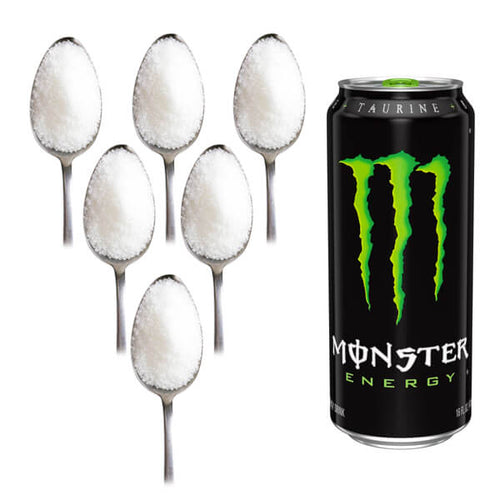 Monster Energy Drink (half can)
6 teaspoons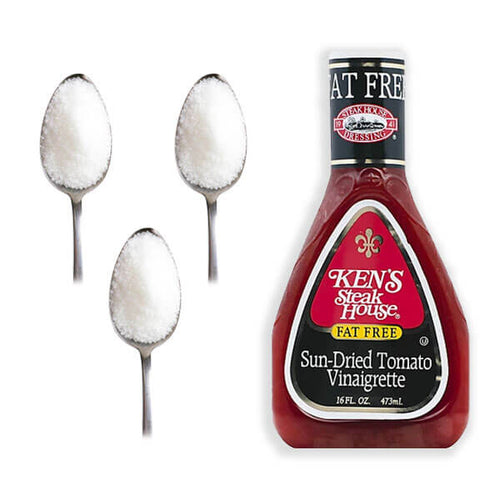 Salad Dressing
3 teaspoons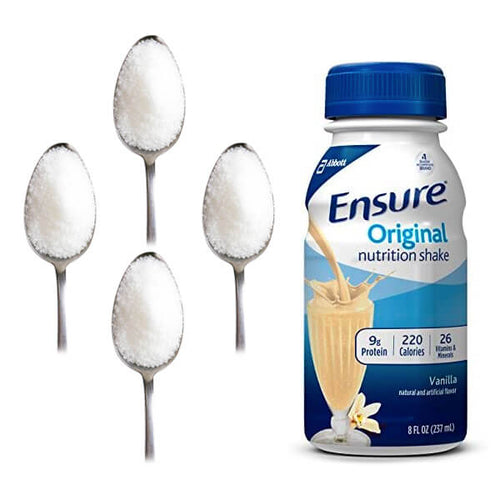 Ensure Nutrition Shake
4 teaspoons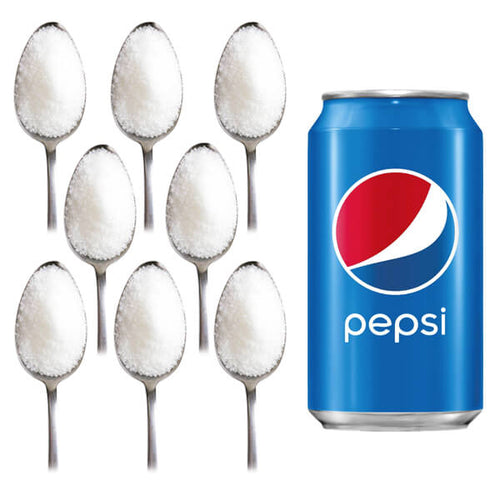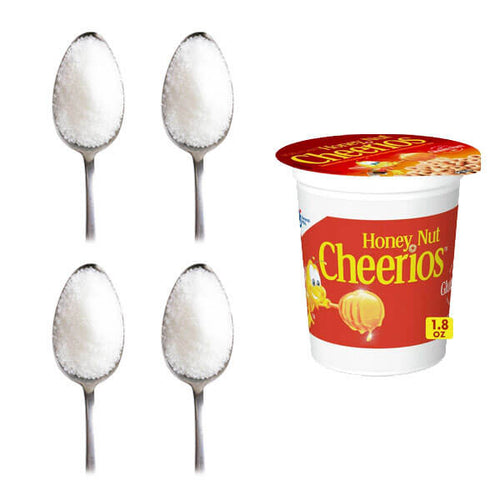 Honey Nut Cheerios
4 teaspoons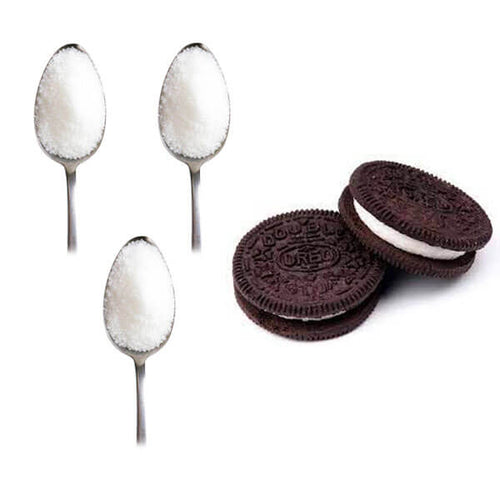 Oreo Cookies (2)
3 teaspoons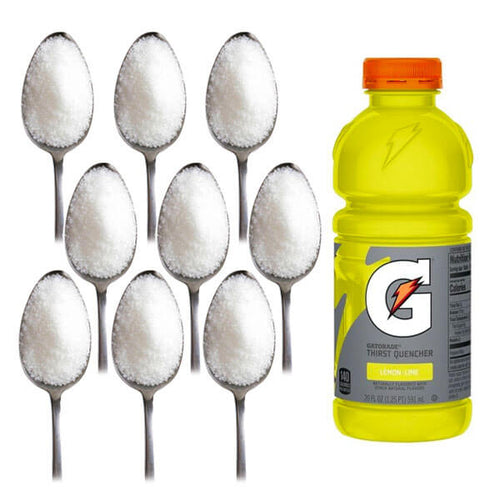 Gatorade (20oz)
9 teaspoons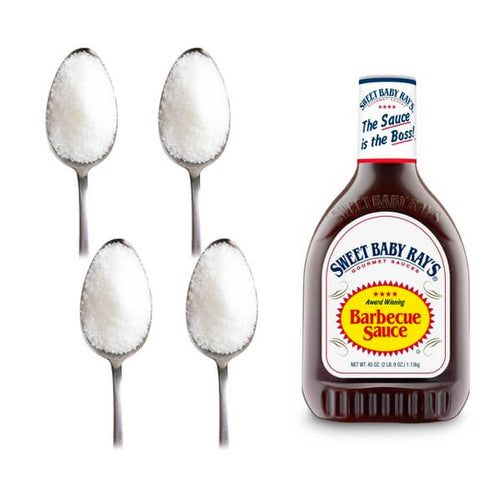 Barbecue Sauce (2 Tbsp)
4 teaspoons
It's Not Your Fault
Sugar is an addictive substance which causes you to crave more and more of it.
When you consume sugar, your body defends itself by creating insulin. The insulin attempts to tamp down the effects of having too much sugar to use in your cells. Eventually your body can't keep up and that is when diabetes sets in for some people, leaving the cells without energy.
"Big Food" Is Not Your Friend
Big food companies know that sugar is addictive, which results in consumers buying more of their products.
Modern food packagers use 61 different words to hide the fact that their foods are loaded with sugar.
Words like corn syrup, dextrose, glucose, fructose and sucrose are just a few of them.
The Dirty Secret Food Makers Want to Hide
When you consume sugar, it combines with fats and proteins creating something called AGEs (Advanced Glycation End-Products).
AGEs are a major culprit of severe body damage at a cellular level, creating conditions that affect organs, tissues, cardiovascular system, affecting the cells in their ability to receive insulin for energy production, and creating inflammation throughout the body.
You have a choice:

You can try to cut sugar out of your diet…or you can take GDF24.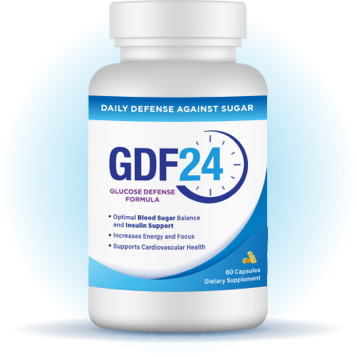 GDF24 Fights the Effects of Sugar
GDF24 fights the production of harmful AGEs, helps optimize blood sugar, supports a healthy insulin balance, supports cardiovascular health and increases energy and focus.
Who Should Take GDF24?
People who have been advised by a medical professional to reduce their intake of sugar
Anyone concerned with:

The negative effects of sugar
Managing glucose levels
Maintaining a healthy insulin level

Anyone focused on optimizing their health and energy.
Customer Reviews
Let customers speak for us
We Are Offering You an Exclusive Offer:
Get Your First Bottle of GDF24 for $49.99
$19.99

!
---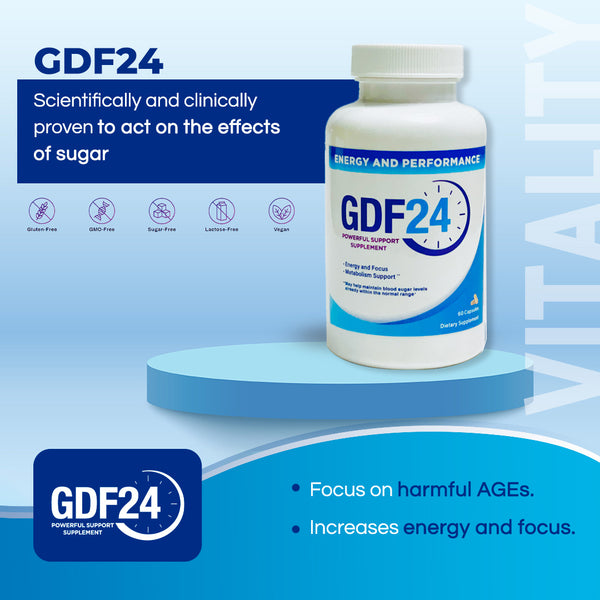 GDF24 - 24 Hour Glucose Defense Formula

Secure SSL Encryption

Guarantee Safe Checkout